N V Energy
Cleaner Greener and Sustainable Future.
A transition to clean energy is about making an investment in our future.- Gloria Reuben
3
Years journey
Since 2020, we are serving residential, commercial spaces & industries by installing Solar Rooftop Projects
Happy client
We have helped our customers by reducing their electricity bills upto 80%
Rooftop Solar Installed
Completed Projects More than 500kw+ which are generating 7,20,000 units/year
On Grid Solar System. Off-Grid Solar System. Hybrid Solar System. (For Residential, Commercial and Industrial)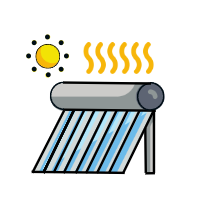 Solar water heaters are a great way to cut down on energy costs and reduce environmental impact. These systems use the sun's energy to heat your hot water. Not only do these cost little upfront, but they require minimal maintenance once installed.
From liaising with government bodies and developing site plans to designing module mounting structures for photovoltaic systems, installation and commissioning, performance monitoring and return of investment - we'll provide you with the right advice and support so you can get the most out of your project.